'Sleeper Hit' of the year, Vivek Agnihotri's "The Tashkent Files" triumphs a 100 houseful days in theaters with Shastriji's blessings. "The People's Film" proves that #TheRightToTruth is in India's DNA!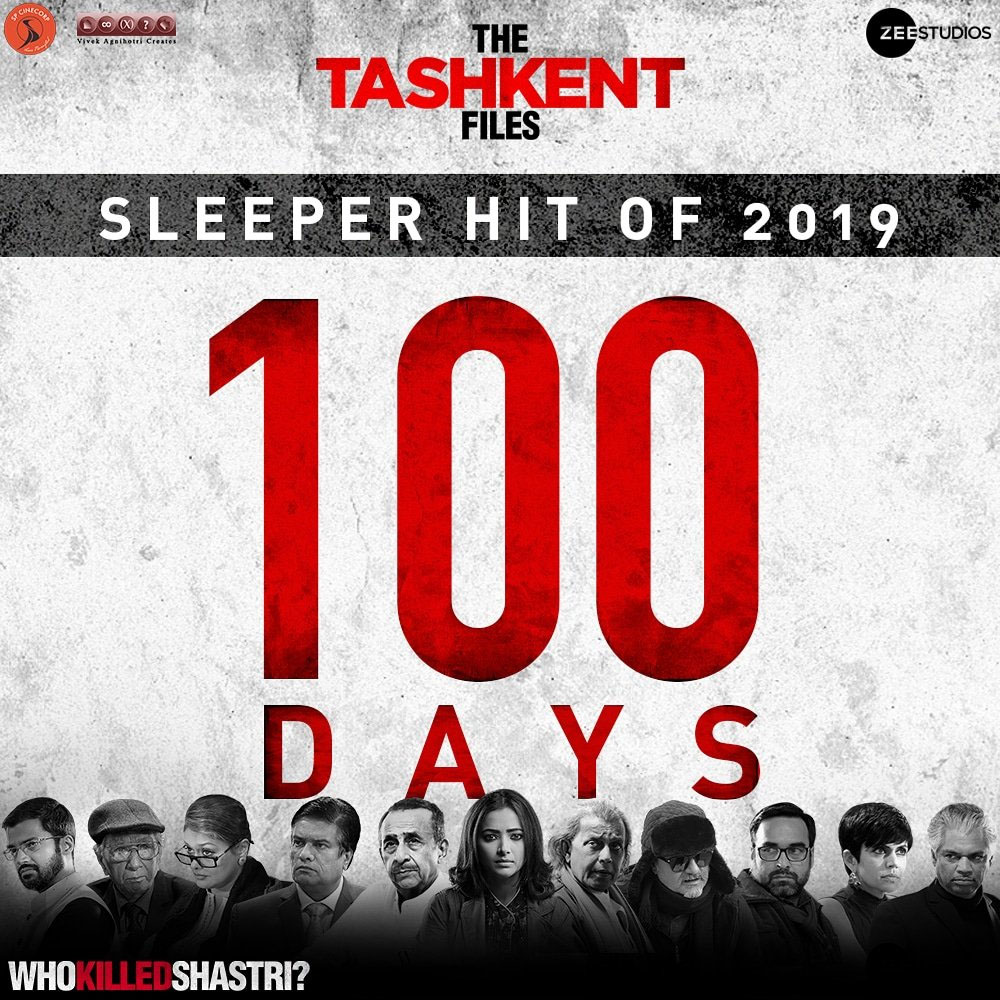 Vivek Agnihotri's "The Tashkent Files" completes its 100 days and still running in theaters. Rare scenario for a small budget film to strike a century at the theaters that too loaded with houseful capacity.
Based on the mysterious death of India's second Prime Minister Shri Lal Bahdur Shastri in Tashkent after signing the Tashkent Agreement with Pakistan, as a Peace Treaty for the Indo-Pak War-1965; the film unravels many political secrets hinting foul play by then acting government.
After a four year of thorough research and filing 25 RTI's, filmmaker Vivek Agnihotri created this ingenious political thriller, awakening #TheRightToTruth movement. Bravely asking questions on democracy, politics, corruption and governance, the film leaves the viewers with horripilation to an unending question of "WHO KILLED SHASTRI?"
With no marketing hype and no star-studded promotions, the film emerged as "The Peoples Film" raking footsteps by the word of mouth. Critics denied of rating and reviewing this amazingly brainstorming film, but to their surprise, "The Tashkent Files" not only achieved 50 times the lifetime Business of Day-1, but it also evolved as 'The Sleeper Hit of 2019' proving that #TheRightToTruth is in India's DNA!
"#TheTashkentFiles hits a century at the BO! Becomes the only second Bollywood film to run for 100 days in theatres this year!" tweet by Zee Studios on social media.
"I thank everyone who supported our film and showered it with their love when nobody expected it to run for more than 5 days. Its Shastri ji's blessings that people showed faith in our theme of #RightToTruth" Vivek Agnihotri expressed his gratitude on social media.
Subscribe our channel and be 'the Buddha'. Stay connected with us at #IAmBuddha page – https://iambuddha.net/  ; to read more such articles, news feeds and blogs. You can find us on Facebook & Twitter as well. Like, Follow and Interact with us and share your ideas, if we like, we appreciate by posting them on our website.
Tags:
the tashkent files
,
Vivek Agnihotri