What an Honor! Director, producer and filmmaker Vivek Ranjan Agnihotri felicitated for his critically acclaimed "The Tashkent Files" by IFTDA-the most prestigious director's guild. Four times National Award winner Madhur Bhandarkar and Sriram Raghvan presented the trophy of honor; followed by a roar of applause and a long-standing ovation.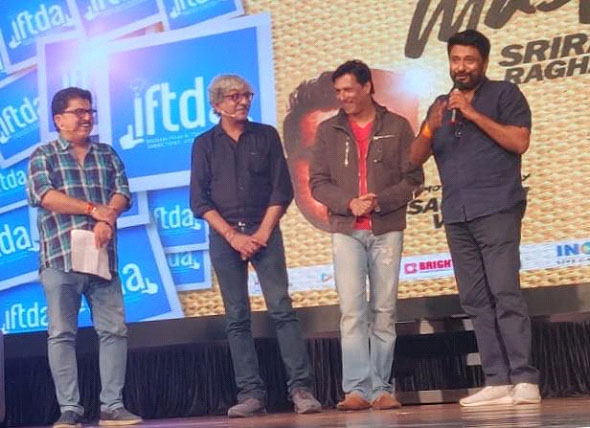 "We feel proud that our esteemed member director Vivek Ranjan Agnihotri has delivered another super hit film 'The Tashkent files', which has brought rave reviews from the critics as well as the connoisseurs of art. It is our intense desire to honor Vivek Ranjan Agnihotri with a coveted trophy for the extreme success of this path breaking film 'The Tashkent Files'."- Quote from IFTDA – the most prestigious director's guild.
"This film has broken all the rules; it has every element that is a big no-no in film's rule book. Yet it ran for over 80 days. This means that if you chase your conviction, anything is possible." Said Vivek Ranjan expressing gratitude in his Thank-you speech.
"Thanks a lot @DirectorsIFTDA for honouring me with this prestigious and precious award. Congrats, the entire #TheTashkentFiles team for this honor." Vivek Agnihotri congratulated the entire cast and crew of "The Tashkent Files" on social media.
The film completed more than 75 days in the theatres. Rarest of the rare scenario for a film to survive this long in theaters. Raking 8.4/10 by IMDb, 87% by Bookmyshow and 95% by Google users; grossing a BOC of 18 crore despite of extremely limited screenings; surviving the onslaughts of the Hollywood and Bollywood biggies; "The Tashkent Files" emerged as "The People's Film" breaking the stereo-types of hype-marketing, star-studded glamour and big-fat promotions.
"The Tashkent Files" is based on the mysterious death of Shri Lal Bahadur Shastri in Tashkent. The second PM of India, Shri Lal Bahadur Shastri died in Tashkent, in hours after signing the Tashkent Agreement. His body turned blue and swollen bleeding from cuts. The clouds of suspicions hinted a murder rather than a heart attack. Who was behind the foul play, STATE, DYNASTY or POLITICS? Will we ever know what happened to our second Prime Minister? Vivek Agnihotri have started a movement of #TheRightToTruth generating a political awakening that shall be noted in the pages of history with golden letters.
The film now a case-study at IIM Ahmedabad, was invited for special screening by Rashtrapati Bhavan, Headquarters of RSS organization, National Sports Club of India; being admired nationally and internationally by all age-groups, mostly the youth of India. This amazingly ingenious film came out as "The Sleeper Hit" of the year.
Subscribe our channel and be 'the Buddha'. Stay connected with us at #IAmBuddha page – https://iambuddha.net/ ; to read more such articles, news feeds and blogs. You can find us on Facebook & Twitter as well. Like, Follow and Interact with us and share your ideas, if we like, we appreciate by posting them on our website.
Tags:
award
,
the tashkent files
,
Vivek Agnihotri