With patriotic vibes generating Horripilation in audience, this most politically apolitical film quakes the big screens, with its release yesterday. This film revolves around the mysterious death of former PM Lal Bahadur Shastri in Tashkent after signing 'The Tashkent Agreement'. An applausive film-direction; commendable acting and the clouds of suspense, this film compels the audience to bite one's nail.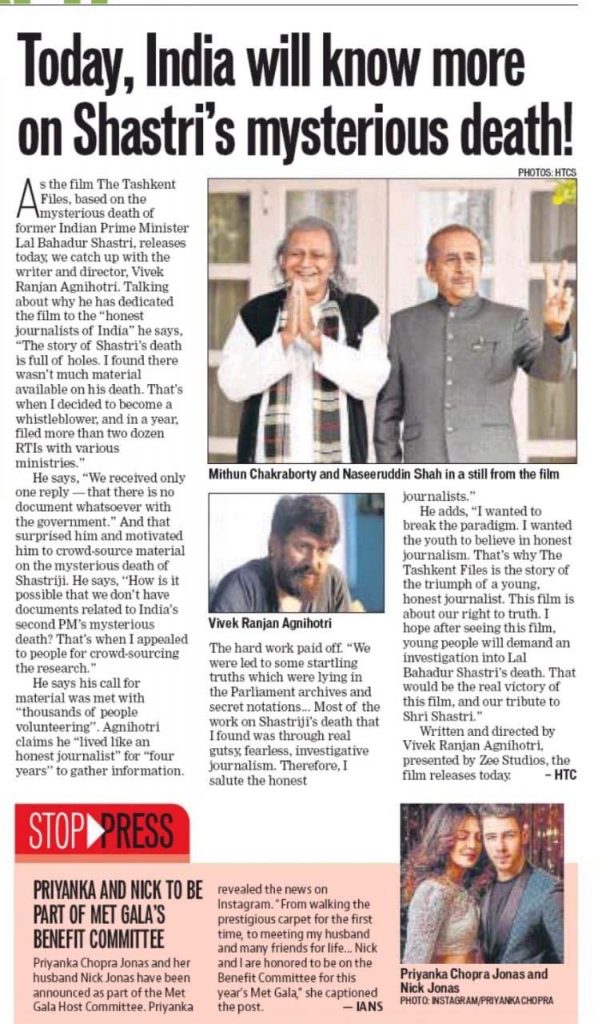 Reviews of Film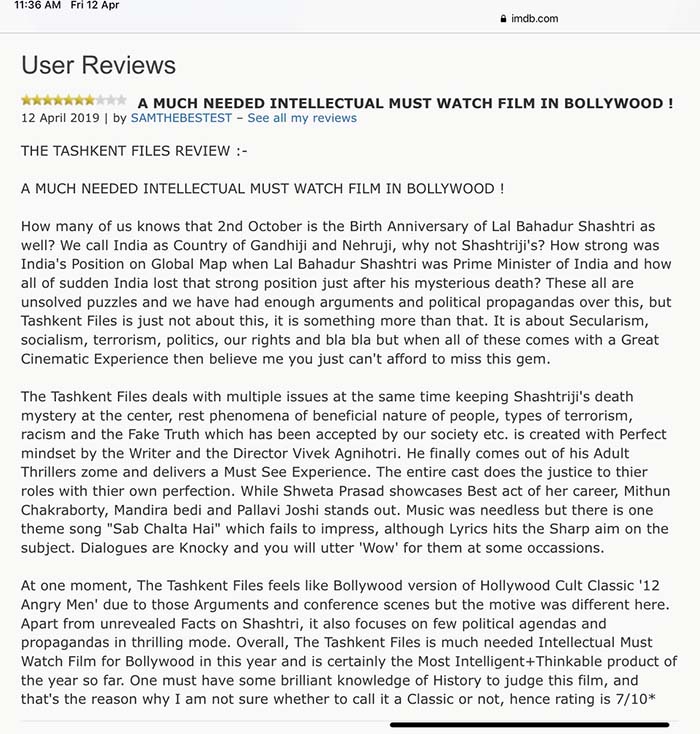 Vivek Agnihotri's hard work paid off. After four years of thorough research and twenty-five filed RTI, the director dares to question the biggest democracy. Vivek says, "Most of the work on Shastriji's death that I found was through real, gutsy, fearless and investigative journalism. Therefore, I salute the honest journalists. I wanted to break the paradigm. I wanted the youth to believe in honest journalism. That's why 'The Tashkent Files' is the story of the triumph of a young journalist."
He added, "It was very important that the characters look exactly as they are supposed to, otherwise you lose credibility of the plot. The only problem I had was in casting the role of 'Raagini Phule'. I started with some of the top stars and most of them felt this was too hard-hitting and worried about how it would affect their career. Some felt it was too political for them while others backed out at the last minute after being 'advised' to do so. While watching Shweta's audition I felt she had something no other Bollywood star had. Till then, I didn't even know she is a National Award winner."
Projecting his vision on Shastriji, Vivek added, "Shastriji was the first economic reformer. He brought the green revolution and white revolution. He was so connected to his roots unlike other politicians. He always had Indian solutions to Indian problems where as other leaders – especially the Nehru-Gandhi family – they had Western solutions and that's why this country has got stuck where it has. If Shastriji completed his term, India would have been an entirely different nation."
Pallavi Joshi who plays Aiysha Ali Shah, a member of the investigative team, says "The events after his death are, what are really interesting. We are unfortunately going through a time when everything we have been told is being proved wrong or coming forth as a half-truth. But what we realized is, the facts have been botched up, in this case at least."
Starring biggies of the industry namely Naseeruddin Shah and Mithun Chakraborty; accompanied by Pallavi Joshi, Mandira Bedi, Pankaj Tripathi, Vinay Pathak, Rajesh Sharma, Prakash Belawadi and Ankur Rathee. But stealing the thunder is the young National Award winning actress Shweta Basu Prasad, show-casting honest journalism as, Raagini Phule.
"We were led to some startling truths which were lying in the Parliament archives and secret notations. This film is about our right to truth. I hope after seeing this film, the youths shall demand an investigation into Shastriji's mysterious death. That would be the real victory of this film, and our tribute to Shastriji." Says Vivek Agnihotri
Subscribe our channel and be 'the Buddha'. Stay connected with us at #IAmBuddha page – https://iambuddha.net/ ; to read more such articles, news feeds and blogs. You can find us on Facebook & Twitter as well. Like, Follow and Interact with us and share your ideas, if we like, we appreciate by posting them on our website.
Tags:
the tashkent files
,
Vivek Agnihotri