Can a book win hearts of billions people only because of its Narrative? Can a book be a best seller in just few days of its launch? Can a book be sensational due to its theme? And can a book differentiate between the self declared so called intellectuals and real intellectuals? If that book is written by veteran filmmaker, brave orator and newest author Mr. Vivek Agnihotri then all above answers can be yes. Mr. Vivek came out with the sensational book #UrbanNaxals which talks about the national security threat. This book has widely recognized, read and debated in India when Mr. Vivek visited various cities like Delhi, Guwahati, Kolkata, Bangalore, Chennai & Mumbai.
#UrbanNaxals has created a momentum wherever it was upheld. Being inspired from the success of India tour of #UrbanNaxals, Mr. Vivek Agnihotri thought to take this book, this narrative and this issue to the global level. As a part of that #UrbanNaxals is now on its USA tour and there it hits Bloomington.
As per the social media coverage by Mr. Vivek Agnihotri, the young students, scientists & common drove all the way from St Louis (3.5 hrs) and Purdue (2 hrs) just to listen to him & his talk about India's biggest internal security threat. Such positive and commit minds will make India proud, wherever they are.
The excitement didn't end there, Mr. Vivek was overwhelmed to see some kids and senior citizens gathered there & buying #UrbanNaxals in bulk to gift it to friends and family to create awareness about India's biggest internal security threat which gave him hope.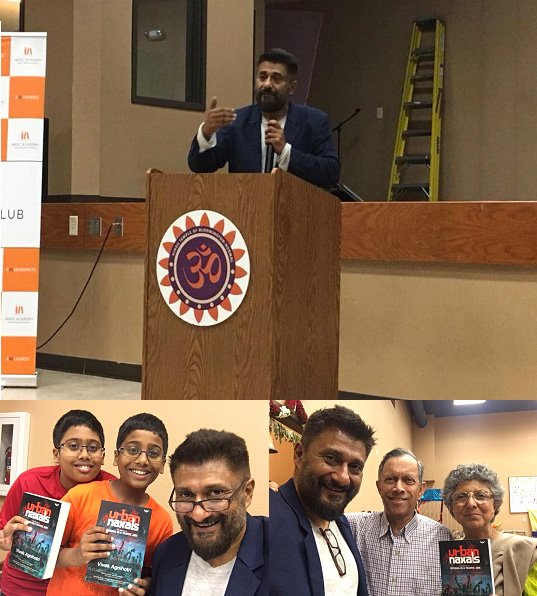 One gentleman Mr. Sanjay Saxena was so amazed that he bought a copy of #UrbanNaxals for $500. There couldn't be more encouraging kick off to #USABookTour #Bloomington
On splendid & successful visit of Bloomington, Mr. Vivek Agnihotri expressed his gratitude & posted, "We thank the organisers & audience (some drove 3.5 hrs) of Bloomington for giving such love to @vivekagnihotri's bestseller #UrbanNaxals Thanks Mr. Sanjay Saxena for buying book for $500. Thanks students @Purdue who drove in rains for two hours to buy book in bulk for friends."
Catch Vivek Agnihotri, the renowned film maker & newest author during his USA tour for the promotion of his book #UrbanNaxals. Meet & greet him and get the signed copy of this book.
So to interact with him you need to know more about this amazing book & to know more about book #UrbanNaxals, you must read it.
If you have still not read this book then order your copy here by clicking this link – http://amzn.in/9Rqrsa9
Block your calendar for US BOOK TOUR (22 June – 15 July)
1-3 July – San Francisco / San Jose
7 July – Houston
8 July – Dallas
10 July – Purdue university
14 July – New Jersey
15 July – Washington, D.C.
Tags:
#UrbanNaxals
,
Book Launch