Chanakya said, "जो अपना इतिहास भूल जाते हे उनका भूगोल बदल जाता हे l" This has proven enormously factual in case of our nation India. We have forgotten our history, culture and civilization; and that has affected entire ethnicity on a larger scale. Daring filmmaker and author of best seller '#UrbanNaxals', Vivek Agnihotri has taken the ambitious initiative to tell the History of Hindu civilization on screen.
Vivek Agnihotri has put together an estimated budget of rupees 250 crore for this dream project of trilogy on history of Hindu Civilization. This ambitious project is expected to be executed in next 5-7 years.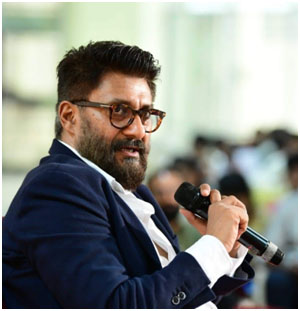 As this subject is very intense and needs an extensive research, Vivek has decided to form a big research panel expected to begin the concentrated research in the summer of 2019. The team will consist of scholars, academicians, historians, archaeologists, astrologists & anthropologists.  Vivek says that this dream project has possessed him and has become the purpose of his creative life. It will begin after the release of his next feature film, "The Tashkent Files".
'Hindu civilisation is humanity's only surviving, open, liberal and plural civilisation. While all civilisations perished, we survived. Despite so many attacks, invasions, foreign rules, partitions, wars, Indian civilization stands tall and unbreakable. Today, once again India is on its way to become a vishwaguru. It's important that this story be told. This is a story of a Hero who was greatest but then attacked, looted, wounded and left to die but it rose again. And how."
When asked what gives him the confidence to undertake such a mammoth and important project, Vivek adds "I am a worshipper of Maa Saraswati and it's her wish that I do this. I am just a medium. If Maa saraswati truly wants me do it, everything will come about to make it happen."
On Tashkent Files, Vivek says, it was also a humongous project to be executed; it took 3 years of extensive research to bring this to common public. The Tashkent Files is in post production and expected to release early 2019.
History of Hindu Civilization is a huge and deep subject; as Vivek said, it will encompass Vedas, Ramayana,  Mahabharata, Indus Valley and the various forces of evolution that have been central to the existence of the Hindu Civilization. Vivek said that he envisaged this idea when he was on the expedition to US-UK for his book launch #UrbanNaxals.
This kernel became known when Vivek addressed at Purdue & Oxford and most recently at Chicago at the World Hindu Congress where Swami Vivekananda made his historical speech 125 years ago. This is when Vivek had this insight to tell the story of Bharat.
Finally, this trilogy is going to trace the start of the Hindu Civilization, with the first chapter spanning from Brahma to Buddha. Second edition will span from Buddha to British Raj and third will be from British Raj to Bullet Train.
You can stay connected with #IAmBuddha page – https://iambuddha.net/ where you can read so many such latest articles & blogs, newsfeeds, motivational stories and current happenings.
If you want to be associated and contribute to this historical project in any capacity – research, scripting, resourcing, funding, investment – please write to us:
Tags:
hindu
,
Vivek Agnihotri