The steep increase in the amount of Penalties charged for Violating Traffic Rules have created a buzz among citizens. Finding the Penalties of the of the Amended Motor Vehicle Act heavy on your pocket? Then have a look at what you would pay in some countries.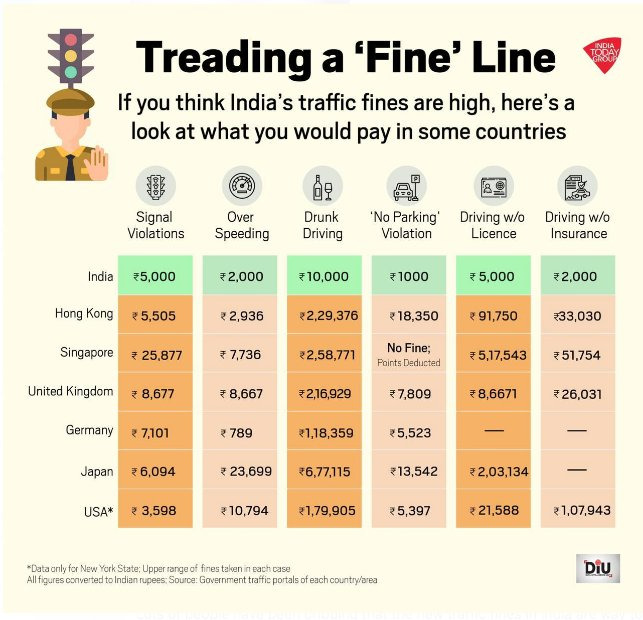 The Government of India has Amended the Motor Vehicle Act, with 63 clauses that tend to ensure a variety of aspects including: vehicle fitness, protection of good Samaritan, cab aggregators, driver's training and most importantly ROAD-SAFETY. The new traffic rules came into effect from 1st September 2019.
The old penalties have been raised to 5-10 times in the Motor Vehicle Act Amendment Bill. Have a look at the Penalties of the New Traffic Rules; and the difference between old and new penalties.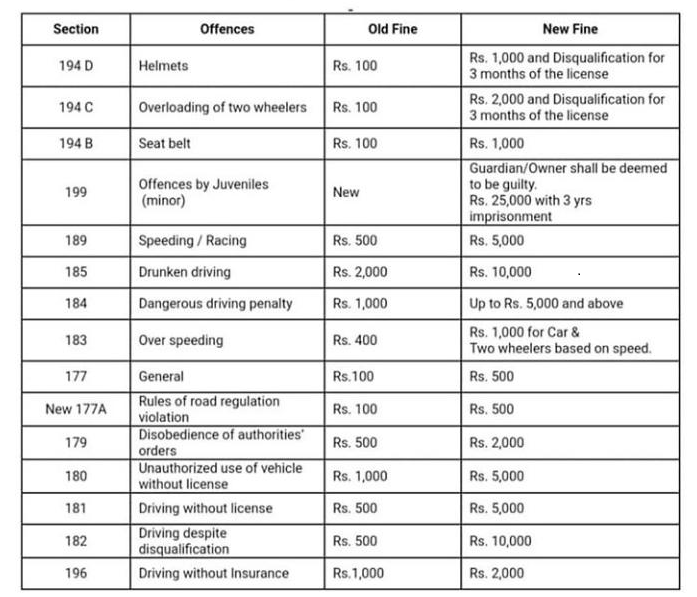 The amended Motor Vehicle Act also includes a penalty of Rs 10,000 to those who do not give way to an ambulance on the road. And most importantly for offences committed by the enforcing authorities, the same penalties shall be doubled.
When asked about the heavy fines being levied on traffic rules violators, Road Transport and Highways Minister Nitin Gadkari showed his concern for the road accident victims saying; "Around 5 lakh accidents occur in the country every year. 65 per cent of deaths occur at the age between 18 and 35. Shouldn't people life be saved? There should be respect and fear for the law."
Reasoning the steep increase in the penalties for the violation of traffic rules he said; "Who will be responsible of accidents caused by those who don't follow traffic laws? The government does not desire to raise the limits of the fine. The issue is that a time should come that no one gets penalized and everyone follows the rules."
The new penalties for violating traffic rules shall really HURT! The cost of one's life is what money can never compensate.Drive Safe. As SAFETY FIRST!
Check, Vivek Agnihotri is attending event today! Click Here.
Tags:
bharat
,
INDIA