Anand Kumar, the Indian Educationalist and Mathematician from Patna, Bihar, provides IIT-JEE coaching to the underprivileged students, under his programme- The SUPER-30. Since its inception in 2002, 422 of 480 students of his SUPER-30 had made to the IIT's until 2018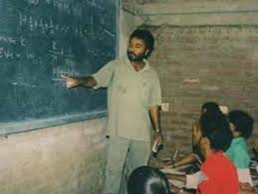 Anand Kumar, the son of a Clerk in Postal Department faced financial crisis from his early days. He attended the Patna High School in Hindi Medium. He secured a scholarship to the Cambridge University, but due to his father's demise and family responsibilities, he had to pursue his graduation from the Bihar Patna Science College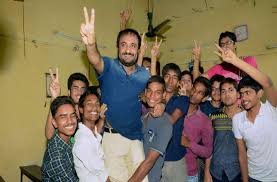 After his father's demise, he used to attend college in daytime and sell Papads with his mother in evening. To earn fortune his mother used to make homemade Papads. The postal department offered him his father's position, but he denied and started tuition classes for an extra income.
Renting a classroom at INR 500, he started "The Ramanujan School of Mathematics". Within three years, the number of students grew from two to five hundred. In 2000, when an underprivileged student approached Anand for coaching, his helplessness at not being able to pay the minimal coaching fees of INR 4000 touched Anand's heart and the seeds of SUPER-30 were sown in his heart.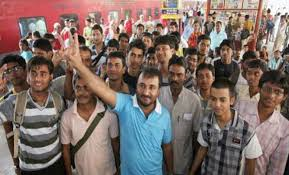 In 2002, he commenced the SUPER-30 programme, where 18 underprivileged students made it to the IIT's.
Since then every year, he selects 30 underprivileged students via entrance exam. Tutors them, providing free lodging and study material. He coaches, his mother cooks food and his brother looks after the management of these students.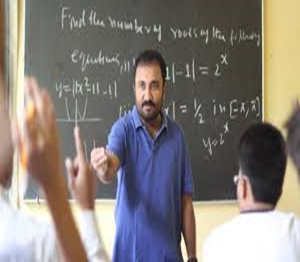 From the first batch of SUPER-30, 18 students made it to the IIT's. From second 22, third 26, fourth 28, fifth 28 and in the next 3 batches, all the 30 students qualified the IIT Examination.
He denied to collaborate with any private sector and decided to continue his SUPER-30. He made many rivals in his journey to provide service, but he overcame the hurdles. Without any support of government, he funds his SUPER-30, with a dream for his students to win the NOBLE PRIZE! In recognition of his accomplishments, the Karpagam University conferred on him the Honorary Doctorate of science (DSc). During graduation, he submitted papers on Number Theory, which were published in Mathematical Spectrum and The Mathematical Gazette.
Anand Kumar was awarded with the 'S.Ramanujan Award' by the Institute for Research and Documentation in Social Sciences (IRDS) in July 2010. He is in the Limca Book of Records (2009) for his contribution in providing free education to the underprivileged students.
Honored with the top award of Bihar government, "Maulana Abul Kalam Azad Shiksha Puraskar"; he was also awarded with the 'Prof. Yashwantrao Kelkar Yuva Puraskar' award by Akhil Bharatiya Vidyarthi Parishad (ABVP) in Bangalore. Madhya Pradesh Government awarded him with the 'Maharishi Ved Vyas'. He was conferred with the prestigious 'Ramanujan Mathematics Award' at the Eighth National Mathematics Convention, Rajkot.
Anand Kumar was awarded "Rashtriya Bal Kalyan Award" by the president of India Ram Nath Kovind. In April 2011, he was selected by the Europe's magazine 'Focus' as "One of the global personalities who have the ability to shape exceptionally talented people."UK based magazine 'Monocle'designated himamong the list of 20 pioneering teachers of the world. Government of British Columbia, Canada, also honored him. Malabar Gold & Diamonds in Dubai honored him with 'The Global Education Award 2018'.
He has spoken about his experiences at Indian Institute of Management Ahmedabad, different IITs, University of British Columbia, Tokyo University and Stanford University. Anand Kumar presented his biography to the Honorable President of India, Shri Pranab Mukherjee, authored by Canada-based psychiatrist Biju Mathew.
In March 2009, Discovery Channel broadcasted a one-hour-long programme on SUPER-30 and half a page was devoted to Anand Kumar in The New York Times. The BBC has featured him in many programmes. Actress and former Miss Japan Norika Fujiwara visited Patna to make a documentary on Kumar's initiatives. He also helped Amitabh Bachchan in preparing for his role in the film Aarakshan. Recently released the Hritik Roshan starrer film "SUPER-30" directed by Vijay Bhal is an autobiographical film, cinematographing the life journey of Anand Kumar.
Rare are such species of men that exist on earth, with complete determination to provide service and to live for a Good Cause!
Subscribe our channel and be 'the Buddha'. Stay connected with us at #IAmBuddha page – https://iambuddha.net/  ; to read more such articles, news feeds and blogs. You can find us on Facebook & Twitter as well. Like, Follow and Interact with us and share your ideas, if we like, we appreciate by posting them on our website
Tags:
anand kumar
,
bharat
,
INDIA
,
super 30