Raja Ravi Varma, the GODFATHER of Indian painting art, famous for his lithographs and oleographs, was the first in history to give human characters to Indian Gods and Goddesses, beautifying them with the amalgamation of Indian tradition and European academic art.
History books depict the pictures of Gods and Goddesses inspired from stone sculptures and similar to cave art. Raja Ravi Varma portrayed Gods and Goddesses to human characters using European art realism, yet maintaining the roots of Indian culture. With his immense drawing and painting skills, he could easily turn stories from the epics to a wonderful piece of art. His paintings portrayed stories from Puranas, Ramayana and Mahabharata, with a great knack of portraying human expressions that radiate the glory of Indian Culture.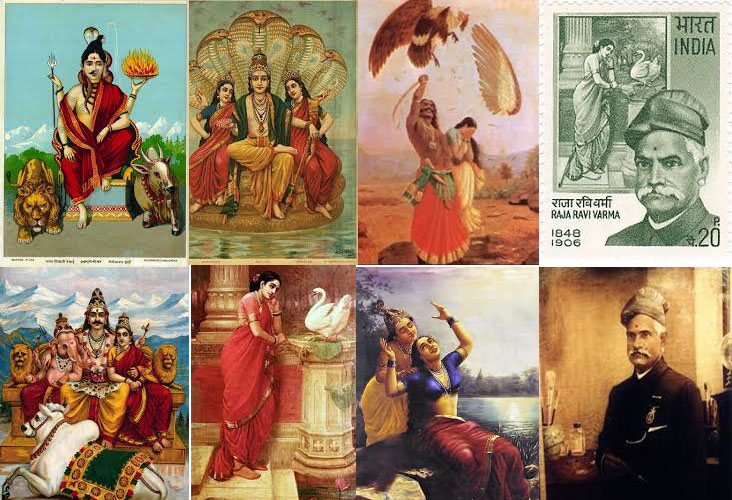 Raja Ravi Varma was awarded with the Kaisar-i-Hind Gold Medal by Viceroy Lord Curzon in 1904. He won the Gold Medal at an exhibition held at Vienna in 1873. Some of his paintings were sent to the iconic World's fair, held in Chicago in 1893; where he won two gold medals. A college of Fine-Arts was constituted in his honor at Mavelikara, Kerala. Raja Ravi Varma High at Kilimanoor was named after him and there are many cultural organizations throughout India bearing his name. In 2013, the crater 'Varma' on Mercury was named in his honor. Considering his vast contribution to Indian art, the Government of Kerala has instituted an award called "Raja Ravi Varma Puraskaram", which is awarded every year to people who show excellence in the field of art and culture. On his 65th death anniversary, The Indian Post issued a commemorative postal stamp depicting Raja Ravi Varma and his famous painting 'Damayanti and Swan'
His Printing Press was largest and most innovative press of India, where millions and zillions of lithographs and oleographs were printed and made available to locals. In that era, where the entry of the Harijans were prohibited in temples, the not so expensive prints of Gods and Goddesses printed from the paintings of Raja Ravi Ram, into his press, became the source of worship for the Harijans. He earned a lot of respect from people; hence he was designated as Prince of Indian Painting Art.
He travelled to different parts of India including Mysore, Baroda and Madurai to learn more about paintings and painting techniques. These travels made him a better artist. His paintings are radiant and natural. He had an impeccable understanding of colors and it helped him in creating paintings that are quite different from other artists of same period. Ravi Varma also had a great talent for depicting human expressions, which are evident in most of his paintings.
Some of his famous paintings include: Nala Damayanti, Jatayu Vadh, Shakuntala, Vishnu as the ambassador, Shiv family, Goddess Laxmi, Goddess Sarasvati, The Maharashtrian Lady, The Milkmaid, The lady lost in thoughts, Village Belle, Arjuna and Subhadra, Shantanu and Matsyagandha, Woman holding a fan, Galaxy of Musicians, Tilottama, Sri Shanmukha Subramania Swami, Shantanu and Satyavati from Mahabharata, Gypsies ; and the list is unending.
Preserved as a Treasure in various Art Galleries and Museums all over India, his paintings are a National Treasure, enchanting the viewers by its eternal glory and charisma.
Subscribe our channel and be 'the Buddha'. Stay connected with us at #IAmBuddha page – https://iambuddha.net/ ; to read more such articles, news feeds and blogs. You can find us on Facebook & Twitter as well. Like, Follow and Interact with us and share your ideas, if we like, we appreciate by posting them on our website.
Tags:
creativity
,
INDIA