Monsoon makes everything better. Your coffee is suddenly more aromatic. The morning chai is tempered with the freshness of ginger and blurred blues and greens through your window panes makes you helplessly alternate between the newspaper and the view outside.
Romance and monsoons are inseparable. Yes, the ride to work is muddy but I suggest don't look at the roads at all. Because if you look around and listen to the rain, it's rhythm, scent, and colors, will heighten your mood and lighten your gloom.
Monsoons can also make you melancholic. Poets have always had a love hate relationship with the season. They love how it eggs them on to create beautiful verses and they hate how a season can look right into their crevices.
Every season works on a pattern. From inception to gaining momentum, monsoons break the pattern with it's sometimes calm, sometimes unruly fervor.
Seasons come and go but these are five things you must do this monsoon.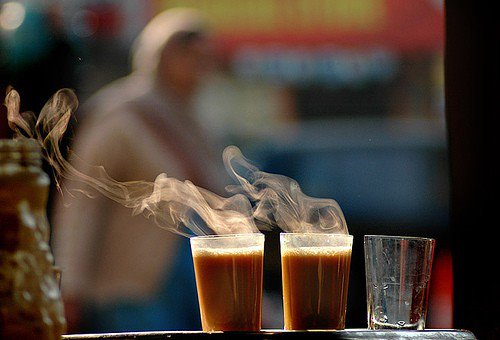 Dig in your pakora plate and add to it a mug full of home made masala chai or a cutting from your favorite tea stall. On your way to work or back, in between lectures or meetings, make sure you get your well deserved break. Once home after a tiring day find a snug corner where you can curl up with your cup. You can watch your weight later because the pakora, samosa or vada will never taste better!
Music and monsoons don't just start with the same letter; they complement each other all the way. Turn on the volume of your car radio and give music a chance. Most likely you will take a longer route to work or not mind the crazy traffic at all. Rain is all about love and nostalgia, so let it dissolve the mundane and music will do the rest.
Don't kill your joy because you can't go out. Instead get your family together and play an indoor game. Whether it is carom, ludo, chess, cards or jenga, rain takes the frenzy higher and a round of hot cocoa will make it a day!
If football does it for you, you know there is not a more ravishing season to take the ball outside
Inside your hostel room or at a quaint bar, alcohol and rain will make you count life's blessings. While conversations will happen and stories will be shared, the boon of the tropics will make you memories you will keep coming back to.

The unplanned leave from school, college or work is only possible when the streets are flooded with water. If you want to take a long drive with a loved one, sit in a café or just enjoy the climate, this is the most acceptable season for your white lie.
As the earth gets rejuvenated, get your fill too because monsoons are a definite reminder that life in not just about staying ahead in the race, it is also about sitting back and looking at the rainbow.